Asphalt Shingle Recycling Facility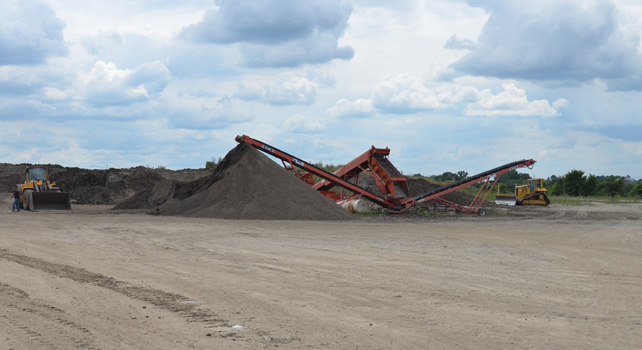 Another facet of our Eco-Facility is our ability to recycle residential tear-offs of asphalt shingles. By recycling these asphalt shingles, Sexton is able to divert this unwanted material from entering the waste stream which would typically be sent to a municipal waste landfill facility. Pending onsite inspection of all inbound material, our recycling services take these unwanted loads of shingles and prepare them for hot-mix asphalt facilities, who are then able to use the material in local roads, highways, parking lots and driveways.
Now not only is 100% of our outbound content recycled into Reclaimed Asphalt Shingles (RAS), it can also result in a significant cost savings to all parties that are involved. By choosing to recycle these materials, roofing contractors and others can promote their involvement in being "Green" and save a considerable amount of money when comparing our disposal rates to those of a municipal waste landfill facility which can then be passed onto the customer. On the other end, hot-mix asphalt facilities who utilize the recycled material can also see a cost savings which often allows for more competitive bids on both public and private road projects.
In order to assure that all of the asphalt shingle loads are clean and free of contaminants, each and every load that enters the site is subject to testing prior to acceptance. Please click on the "FORMS" tab on the side of the page to download the necessary paperwork prior to your arrival.